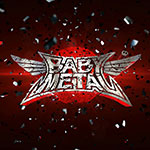 Babymetal's 1st album will be released on February 26.
The CD contains 13 songs including all singles from Babymetal. The new visuals have also been unveiled.
The limited edition comes with a bonus DVD with music videos, audio commentaries by the members of the idol group, and live footage from Legend "1997" Su-Metal Seitansai and Summer Sonic 2013.
A trailer and the MV for Give Me Choco!! (ギミチョコ!!) have been released.
Furthermore, Babymetal will hold the concerts Akai Yoru Legend "Kyodai Corset Matsuri" ~Tenkaichi Metal Budokai Final~ (赤い夜 Legend "巨大コルセット祭り" ~天下一メタル武道会ファイナル~) and Kuroi Yoru Legend "Doomsday" ~Shoukan no Gi~ (黒い夜 Legend "Doomsday" ~召喚の儀~) on March 1-2, 2014 at Nippon Budokan in Tokyo.
Tracklist
CD

Babymetal Death
Megitsune (メギツネ)
Give Me Choco!! (ギミチョコ!!)
Ii ne! (いいね!)
Akatsuki (紅月-アカツキ-)
Do Ki Do Ki Morning (ド・キ・ド・キ☆モーニング)
Onedai Daisakusen (おねだり大作戦)
4 no Uta (4の歌)
U Ki U Ki Midnight (ウ・キ・ウ・キ★ミッドナイト)
Catch Me If You Can
Akumu no Rinbukyoku (悪夢の輪舞曲)
Headbanger!! (ヘドバンギャー!!)
Ijime, Dame, Zettai (イジメ、ダメ、ゼッタイ)
DVD (Limited Edition)

Video Clip

Do Ki Do Ki Morning (ド・キ・ド・キ☆モーニング)
Ii ne! (いいね!)
Headbanger!! (ヘドバンギャー!!)
Ijime, Dame, Zettai (イジメ、ダメ、ゼッタイ)
Megitsune (メギツネ)

Live Video Clip

Give Me Choco!! (ギミチョコ!!) from Legend "1997" Su-Metal Seitansai at Makuhari Messe Event Hall 2013/12/21

Live at Summer Sonic 2013

Babymetal Death
Megitsune (メギツネ)
Catch Me If You Can
Headbanger!! (ヘドバンギャー!!)
Ijime, Dame, Zettai (イジメ、ダメ、ゼッタイ)