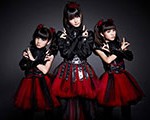 Babymetal will hold Legend "Y" Moametal Seitansai (聖誕祭) and Legend "M" Moametal Seitansai (聖誕祭) in Europe in late June or early July 2014.
Babymetal announced that they are going to participate in Sonisphere festival in England on July 4-6.
In addition, Babymetal World Tour 2014 will be held on July 1-7. There will be some concerts in France, in Germany and in United Kingdom.
The Japanese idol group will celebrate the birthdays of Yuimetal and Moametal during this live performances.
The announcement was made on March 2 on the 2nd day of Babymetal's concert Kuroi Yoru Legend "Doomsday" ~Shoukan no Gi~ (黒い夜 Legend "Doomsday" ~召喚の儀~) at Nippon Budokan via a VTR.
The aim is to expand activities as "metal resistance" to overseas. The girls will go on a journey of training called Ikoku no Chi e Shoukan (異国の地へ召喚).
Further details on Babymetal live performances in Europe will be announced later.
On iTunes Store, their 1st album Babymetal released on February 26 took the 1st place in the metal album chart in the United States, and the 2nd place in UK and Germany. From now, the idol group wants to expands its activities all over the world.