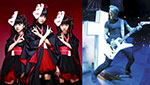 Babymetal posted a video message on YouTube to promote the movie Metallica Through the Never (メタリカ・スルー・ザ・ネヴァー) featuring the famous American heavy metal band.
The members of Babymetal and Metallica met last August at Summer Sonic 2013 in Tokyo. They participated in the live event with several other rock bands.
Check out the video message from Babymetal and the trailer of the movie.
Metallica Through the Never will be released in theaters on November 22 in Japan.
Video / Trailer