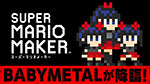 Babymetal and Nintendo collaborated to create special characters for the video game Super Mario Maker (スーパーマリオメーカー).
The character design is based on the members of the idol metal band.
Check out the video and a message from Su-Metal, MoaMetal and YuiMetal.
Super Mario Maker is a platform video game and game creation system developed by Nintendo for the Wii U.
The users who will clear the course entitled "Metal Resistance" will be able to play with Babymetal characters in their own levels.
The original voices of the girls have been recorded.
Video