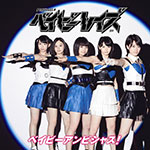 Babyraids' 4th single Baby Ambitious! (ベイビーアンビシャス!) will be released on July 31.
The regular edition contains 2 songs and their instrumental versions.
The limited editions Type A and B come with a DVD featuring the music video, its making-of, and special footage. They also contain a bonus track.
The limited edition Type C includes 3 photos of Babyraids members randomly selected from 30 kinds.
The title song was written and composed by Shun and Kuboty from Totalfat.
Furthermore, Babyraids have announced the schedule for their upcoming live performances :
13/06/2013 : Koshitantan Vol.3 (虎視眈眈Vol.3) at Shimokitazawa Garden
11/07/2013 : Koshitantan Vol.4 (虎視眈眈Vol.4) at Shimokitazawa Garden
11/08/2013 : One-Man Live "Babyraids Densetsu no Kaminari Mai -Tora Gun Funtou-" (ワンマンライブ<ベイビーレイズ伝説の雷舞!-虎軍奮闘->) at Shibuya O-East
Regular Edition
CD

Baby Ambitious! (ベイビーアンビシャス!)
Bokura no Real (ボクラノリアル)
Baby Ambitious! (ベイビーアンビシャス!) (Instrumental)
Bokura no Real (ボクラノリアル) (Instrumental)
Limited Edition Type A
CD

Baby Ambitious! (ベイビーアンビシャス!)
Bokura no Real (ボクラノリアル)
Get Over Night
Baby Ambitious! (ベイビーアンビシャス!) (Instrumental)
Bokura no Real (ボクラノリアル) (Instrumental)
Get Over Night (Instrumental)
DVD

Baby Ambitious! (ベイビーアンビシャス!) (Music Video)
Tora no Mon Retsuden -Get Over Night Seisaku Document Hen- (虎ノ門列伝 -Get Over Night制作ドキュメント編-)
Baby Ambitious! (ベイビーアンビシャス!) (Jacket Making-of)
Limited Edition Type B
CD

Baby Ambitious! (ベイビーアンビシャス!)
Bokura no Real (ボクラノリアル)
Supernova (スーパーノヴァ)
Baby Ambitious! (ベイビーアンビシャス!) (Instrumental)
Bokura no Real (ボクラノリアル) (Instrumental)
Supernova (スーパーノヴァ) (Instrumental)
DVD

Baby Ambitious! (ベイビーアンビシャス!) (Music Video)
Baby Ambitious! (ベイビーアンビシャス!) (Dance Ver.)
Tora no Mon Retsuden -Kakoku Shugyou Hen- (虎ノ門列伝 –過酷修行編-)
Baby Ambitious! (ベイビーアンビシャス!) (MV Making-of)
Limited Edition Type C
CD

Baby Ambitious! (ベイビーアンビシャス!)
Bokura no Real (ボクラノリアル)
Baby Ambitious! (ベイビーアンビシャス!) (Instrumental)
Bokura no Real (ボクラノリアル) (Instrumental)
Music Video (PV)