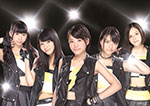 Babyraids Densetsu no Live! Kogun Funtou (ベイビーレイズ伝説の雷舞!-虎軍奮闘) will be released on DVD on December 18.
The concert was held on August 11, 2013 at Shibuya O-East in Tokyo.
The DVD features the 17 songs performed by Babyraids at the concert. It also includes bonus footage.
Furthermore, Babyraids Tour 2013 ~Koketsu ni Irazunba Tora Gaa wo Ezu~ (~虎穴に入らずんば虎ガーを得ず~) will be held from October 13 to December 15 across Japan.
Setlist
Baby Ambitious! (ベイビーアンビシャス!)
S.O.K.
Level 1
Happy New Year (ハッピーニューイヤー)
Together! Together! Together! (トゥゲザー!トゥゲザー!トゥゲザー!)
Yuuki no Uta (勇気のうた)
Saijoukyuu!! (最上級‼)
Supernova (スーパーノヴァ)
Koyomi no Ue Deha December (暦の上ではディセンバー)
Jump
Bokura no Real (ボクラノリアル)
Christmas ga Rival (クリスマスがライバル)
Get Over Night
Baby Revolution (ベイビーレボリューション)
– Encore –
Gate of the Tiger (ベイビーレボリューション)
Babyraids (ベイビーレイズ)
Smile