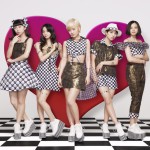 Babyraids Japan's 10th single Pretty Little Baby will be on sale on August 19.
The idol group performs another rock song.
The music video has been revealed. It features some scenes with the animation version of the members of Babyraids Japan.
Pretty Little Baby is a cover of the 1962 song by Connie Francis which was originally written and composed by Bill Nauman and Don Stirling. This version was rearranged by Watarai Masashi (FoZZtone).
The members of Babyraids Japan are wearing retro black and white outfits with motifs inspired by the 1960s.
The lyrics of the coupling song Pondering were written by Onishi Toshinari (Ivory7 Chord). He also composed and arranged the music.
Show Time was written and composed by Naganuma Hidenori (Veltpunch).
Hitomebore Hatsukoi Moyou (ひとめぼれ初恋もよう) was written by Ika Naizou and composed by Kuboty (Totalfat).
The limited editions come with a bonus DVD featuring the music videos and footage the idol group's Spring concert tour.
Furthermore, Babyraids Japan Summer Live 2015 Idorock is going to take place on September 12-13 at Zepp DiverCity.
Babyraids Japan Autumn Tour 2015 Idorock will be held from October 10 to November 29 across the country.
Tracklist
Regular Edition

CD

Pretty Little Baby
Pondering
Pretty Little Baby (Instrumental)
Pondering (Instrumental)
Type A

CD

Pretty Little Baby
Pondering
Show Time
Pretty Little Baby (Instrumental)
Pondering (Instrumental)
Show Time (Instrumental)

DVD

Pretty Little Baby Music Video
Pretty Little Baby ジャケットメイキング
Babyraids Japan Spring Tour 2015 -Idorock Sensation-(2015.06.19 at Kawasaki Citta')
Tiger Soul
Pretty Little Baby
夜明けBrand New Days
Type B

CD

Pretty Little Baby
Pondering
Hitomebore Hatsukoi Moyou (ひとめぼれ初恋もよう)
Pretty Little Baby (Instrumental)
Pondering (Instrumental)
Hitomebore Hatsukoi Moyou (Instrumental)

DVD

Pretty Little Baby Music Video
Pretty Little Baby ジャケットメイキング
Babyraids Japan Spring Tour 2015 -Idorock Sensation-(2015.06.19 at Kawasaki Citta')
Baby Revolution (ベイビーレボリューション)
Show Time
Tora Tora Tiger!! (虎虎タイガー!!)
Music Video (PV)