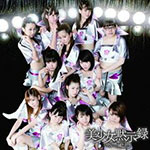 Bakusute Sotokanda Icchome's 2nd major single Bishoujo Mokushiroku (美少女黙示録) will be released on August 14.
5 editions are available.
The limited editions A and B come with a DVD featuring the music video and bonus footage.
The limited edition C includes a 24-page booklet.
The list of the 12 main members has also been announced.
Main Members
Hario Arisa, Aikawa Ayano, Aoshima Karen, Hirosawa Mai, Miroboshi Azuna, Taiga Hana, Ito Yuki, AD Nagisa, Hanano Yuuka, Ayashima Yuka, Suzumi Hinano, Hamaguchi Ranko
Regular Edition
CD

Bishoujo Mokushiroku (美少女黙示録)
Rival wo Lock on! (ライバルをLock on!)
Bishoujo Mokushiroku (美少女黙示録) (Instrumental)
Rival wo Lock on! (ライバルをLock on!) (Instrumental)
Limited Edition A
CD

Bishoujo Mokushiroku (美少女黙示録)
Koi no Yes! No? Kimi Omou (恋のYes!No?キミ想う)
Bishoujo Mokushiroku (美少女黙示録) (Instrumental)
Koi no Yes! No? Kimi Omou (恋のYes!No?キミ想う) (Instrumental)
DVD

Bishoujo Mokushiroku (美少女黙示録) (Music Video)
Making-of (メイキング映像)
Limited Edition B
CD

Bishoujo Mokushiroku (美少女黙示録)
Koi no Yes! No? Kimi Omou (恋のYes!No?キミ想う)
Bishoujo Mokushiroku (美少女黙示録) (Instrumental)
Koi no Yes! No? Kimi Omou (恋のYes!No?キミ想う) (Instrumental)
DVD

Bishoujo Mokushiroku (美少女黙示録) (Music Video)
Dance Lesson (ダンスレッスン映像)
Limited Edition C
CD

Bishoujo Mokushiroku (美少女黙示録)
Koi no Yes! No? Kimi Omou (恋のYes!No?キミ想う)
Bishoujo Mokushiroku (美少女黙示録) (Instrumental)
Koi no Yes! No? Kimi Omou (恋のYes!No?キミ想う) (Instrumental)
Limited Edition D
CD

Bishoujo Mokushiroku (美少女黙示録)
Bishoujo Mokushiroku (美少女黙示録) (Instrumental)