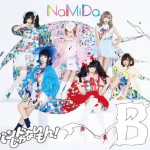 The new single of Band Ja Naimon! NaMiDa / White Youth will be on sale on November 25.
This the 5th single of the idol group, and their first one for 1 year.
The tracklists were unveiled.
Minami Tomoya wrote the lyrics and composed the music of NaMiDa.
Band Ja Naimon! member Suzuhime Misako wrote the lyrics of White Youth. The music was composed by Okuwaki Tatsuya (Akasick) and arranged by Sato Kazuki (Scrambles).
The single will be available in several editions : a regular one and 6 nominative limited editions. The covers are different on each edition. Each limited edition represents one member of the group.
The single contains the main songs, NaMiDa et White Youth and their instrumental versions. The limited editions contain only the song NaMiDa and its intrumental version with one differente B-side song.
Furthermore, the first full-album of Band Ja Naimon! entitled Re:start was released in April.
Tracklist
Regular Edition

NaMiDa
White Youth
NaMiDa (Instrumental)
White Youth (Instrumental)
Misako.ver.

NaMiDa
Speed Lion (スピードリオン)
NaMiDa (Instrumental)
Shiorin.ver

NaMiDa
Ringo-iro no Yakusoku (りんごいろの約束)
NaMiDa (Instrumental)
Gumichan.ver.

NaMiDa
Mizu-iro no Blue (水色のブルー)
NaMiDa (Instrumental)
Miyuchi.ver.

NaMiDa
Tewatashi no Kyori (手渡しの距離)
NaMiDa (Instrumental)
Yuzupon.ver.

NaMiDa
Hi・Ma・Wa・Ri (ひ・ま・わ・り)
NaMiDa (Instrumental)
Chanmono.ver

NaMiDa
baby my love
NaMiDa (Instrumental)