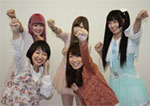 Band Ja Naimon! announced that 3 new members joined the group. Their names are Ramune (らむね), Shioringo (しおりんご), and Gumi (ぐみ).
The news was revealed on May 7 during their show on Ustream. It was a surprise for the original members Misako and Kacchan.
Moreover, Band Ja Naimon! will hold live performances titled Koi to Kakumei to Chimera to Band Ja Naimon! (~恋と革命とキメラとバンドじゃないもん!~) on May 24 at Shibuya O-East, and Shinsei Band Ja Naimon! Ohirome Kai (新生バンドじゃないもん!お披露目会) on June 8 at Akihabara Dear Stage.
The new members will make their debut at the 2nd concert.
Video
Schedule
Date : 24/05/2013
Time : –
Venue : Shibuya O-East, Tokyo
Line up :

Band Ja Naimon!
Kominami Yasuha
Urbangarde
Date : 08/06/2013
Time : –
Venue : Akihabara Dear Stage, Tokyo