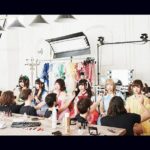 The new album of Band Ja Naimon! was released on March 8.
It is entitled Kanpeki Shugi no Sekai ni Fukanzen na Ongaku wo♡ (完ペキ主義なセカイにふかんぜんな音楽を♡).
This is the 2nd album of Band ja Naimon! but its is also their 1st major album.
The MV for Seishun Karada Da Dash! was unveiled.
You can find the last singles of the group of idols such as: Kime Master! / Kimochi Dake Sanka Shimasu, Natsu no Oh! Vibes, and the two singles simultaneously released Yakamochi and Yatta!.
The album is sold in two editions. One of them contains an additional disk.
Tracklist 
CD

Seishun Karada da Dash! (青春カラダダダッシュ! )
Kime Master! (キメマスター!)
Shuttokodokkoi (しゅっとこどっこい)
Natsu no Oh! Vibes (夏のOh!バイブス)
Kimi wa Hero (君はヒーロー)
Kekkō na Otemae de (結構なお点前で)
YAKIMOCHI
Dream Town (ドリームタウン)
Himitsu Kessha, Futari. (秘密結社、ふたり。 )
Tsuyoki, Magic Moon Night〜Shōjo wa Otona ni Yume wo Miru〜 (強気、Magic Moon Night ~少女は大人の夢を見る~)
Romantic♥Telepathy (ロマンティック□テレパシー)
Suki Paradise♡ (.すきっぱらだいす)
Pin Heel (ピンヒール)
YATTA!
End・Less (エンド・レス)
CD2 (Limited Edition)

Kimi no Egao de Sekai ga Yabai (君の笑顔で世界がやばい)
NaMiDa
Kime Master! (キメマスター!)
Kimochi Dake Sanka Shi Masu. (気持ちだけ参加します。)
Natsyu no Oh! Vibes (夏のOh!バイブス)
Icecream ni Nari Tai no (アイスクリームになりたいの)
Cinderalla Blues (シンデレラブルース)
He Rose (ヒーローズ)
YAKIMOCHI
YATTA!
YAKIMOCHI (Music Video Making Image)
YATTA! (Music Video Making Image)
Jacket Photography Making Image
Music Video (PV)