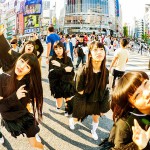 Bellring Girls Heart (Bellring少女ハート) is a Japanese idol group formed in April 2012. They are also known as Bellring Shoujo Heart.
It currently consists of 5 members.
The members wear black clothes with feathers on the sleeves to look like crows.
The idol unit is based in Tokyo.
Biography / History
Bellring Girls Heart held their 1st live performance in April 2012.
Their 1st single Negative EP was released in August 2012.
Kuwase Shuri withdrew in October 2012.
Tsuchiya Rina was fired in February 2013.
The MV for Circus & Renai Soudan (サーカス&恋愛相談) was released in March 2013.
The idol unit held its 1st solo concert Bokura no Anniversary (ボクらのAnniversary) in April 2013 at Shibuya WWW in Tokyo. 316 fans attended the event.
Tira is Taiwanese.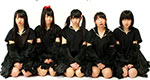 In May 2013, she had to leave Japan to go back to Taiwan due to visa issues.
Bellring Girls Heart's album BedHead was released in August 2013.
Mizuki Yuka broke her right ankle on stage in August 2013. She had to stopped her activities during a few months to recover.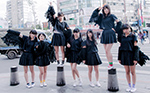 Yanagisawa Ayano and Kai joined the idol group as new members in September 2013.
The idol group held a live performance in Taiwan in November 2013. This event was their first overseas appearance.
The members were starring in the movie The Adventures of Bellring Girls Heart across the 6D (Bellring少女ハートの6次元ギャラクシー) which was released in theaters in Japan in May 2014.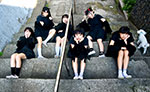 Asakura Mizuho formed the idol duo Escalator or Elevator (エスエレ) along with Chibo from You'll Melt More! (ゆるめるモ!). Their debut single Entrance EP was released in October 2014.
The concert tour Black Feather Collect Money Tour (黒い羽集金ツアー) was held between December 2014 and January 2015.
Bellring Girls Heart held a series of live performances entitled Shigeru充 in February 2015. Other idol groups participated as guests.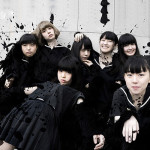 Nakano Juri and Mizuki Yuka graduated in February 2015.
As a result, Kanra, Kari-chan and Fujishiro Anna were recruited as new members in March 2015.
Bellring Girls' Heart held their first overseas live performance in Taiwan in August 2015. Tira announced her graduation during this concert. She couldn't have resumed regular activities with the unit in Japan since 2013.
Fujishiro Anna withdrew from the idol group in November 2015.
In December 2015, the members challenged 100 meter bungee jumping from the Ryujin bridge which is the Japan's highest one for this activity. Yanagisawa Ayano, who was the only one to have failed, took revenge and successfully jumped a few weeks later.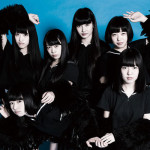 In January 2016, Bellring Girls Heart and You'll Melt More! held a joint live performance.
Usami Moe graduated in February 2016.
In March 2016, Kai formed the unit Engawa (えんがわ) with Usakura Beni (Avandoned) and musician Ishikawa Koji.
Asakura Mizuho hosts the radio show Mizuho no Ho ~Bell Heart Housoukyoku~ (みずほのほ ~ベルハー放送局~) on Air-G' since April 2016.
In August 2016, Kai formed Kai Band (カイバンド). She is the singer. She is looking for musicians to perform with her.
Bellring Girls' Heart released the album "Q" at Zepp Tokyo in August 2016. It is part of a trilogy consisting of the albums "Q", "B", "K" recorded during 3 live performances.
Former member Fujishiro Anna joined the idol group Ice Cream Suicide in August 2016.
The photobook 暗闇から手をのばせ – Lengthen hands from darkness was published in October 2016. It includes photos taken during the concerts of Bellring Girls Heart.
Profile
Bellring Girls Heart (Bellring少女ハート, Bellring Shoujo Heart)
Years active : 2012 – present
Label : –
Agency : Crimson Printings
Members
Asakura Mizuho (朝倉みずほ)
Yanagisawa Ayano (柳沢あやの)
Kai (カイ)
Kanra (甘楽)
Kamin Reina (仮眠玲菜) / Kari-chan (仮ちゃん)
Former Members
Suzuhara Nana (鈴原なな)
Kuwase Shuri (

桑瀬秀梨

)
Tsuchiya Rina (

土谷りな

)
Nakano Juri (仲野珠梨)
Mizuki Yuka (美月友華)
Tira (ティラ)
Fujishiro Anna (藤城アンナ)
Usami Moe (宇佐美萌)
Discography
Singles
EP
26/08/2012 : Negative EP
07/10/2012 : Reversal EP
19/12/2012 : Tricera EP
12/05/2013 : Spacetime EP
22/01/2014 : Untouchable EP
11/05/2014 : Killer Killer EP
31/10/2014 : EPEP EP
24/06/2015 : 13 Weeks Later EP
Albums
10/08/2013 : BedHead
23/12/2014 : Undo the Union
17/02/2016 : Beyond
Live Albums
16/08/2016 : "Q" at Zepp Tokyo
Links
News