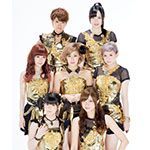 Berryz Kobo's 32nd single Golden Chinatown / Sayonara Usotsuki no Watashi (ゴールデン チャイナタウン/サヨナラ ウソつきの私) will be released on June 19.
It is a double A-side single.
The limited editions include a bonus DVD featuring various versions of the music videos and making-of footage. They also come with a lottery ticket for a release event.
Furthermore, Alo Hello! Berryz Kobo Photobook 2013 (アロハロ!Berryz工房 写真集 2013) and Alo Hello! 3 Berryz Kobo (アロハロ! 3 Berryz工房) DVD and Blu-ray will go on sale on June 29 and on July 24 respectively.
Tracklist
CD

Golden Chinatown (ゴールデン チャイナタウン)
Sayonara Usotsuki no Watashi (サヨナラ ウソつきの私)
Golden Chinatown (ゴールデン チャイナタウン) (Instrumental)
Sayonara Usotsuki no Watashi (サヨナラ ウソつきの私) (Instrumental)
DVD (Limited Edition Type A)

Golden Chinatown (ゴールデン チャイナタウン) (Music Video)
Golden Chinatown (ゴールデン チャイナタウン) (Dance Shot Ver.)
DVD (Limited Edition Type B)

Sayonara Usotsuki no Watashi (サヨナラ ウソつきの私) (Music Video)
Sayonara Usotsuki no Watashi (サヨナラ ウソつきの私) (Dance Shot Ver.)
DVD (Limited Edition Type C)

Golden Chinatown (ゴールデン チャイナタウン) (Close-up Ver.)
Sayonara Usotsuki no Watashi (サヨナラ ウソつきの私) (Close-up Ver.)
Making-of (メイキング映像)
Music Video (PV)