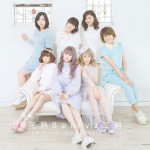 The idol group Berryz Kobo will release a box compilation Kanjuku Berryz Kobo The Final Completion Box (完熟Berryz工房 The Final Completion Box) on January 21.
The lists of tracks were revealed.
As its title suggests, this is the final release of Berryz Kobo before its pause from next spring, as it had been agreed. The entire career of the group is based in this box as a conclusion.
The box contains multiple disks (6CD) comprising most of the singles, from the first to the recent of idol group, eventually its B-side songs released. The group reserves more surprises : other discs contain remix songs, covers, songs from albums and other unreleased, that is to say the recordings designed to be on the box as well as recordings rated "rare" that were not published.
The box will be sold in several editions: a regular and two limited-rated (3CD and 2Blu-ray) and B (3CD and 2DVD). The limited edition B and the regular edition will come with a photo booklet. Limited editions will come with a serial event card.
Berryz Kobo's last concert will be held on March 3, 2015 at Nippon Budokan, Tokyo.
Tracklist
Disc 1 – A-Side Collection

Anata Nashi de wa Ikite Yukenai (あなたなしでは生きてゆけない)
Fighting Pose wa Date ja nai! (ファイティングポーズはダテじゃない!)
Piriri to Yukou! (ピリリと行こう!)
Happiness ~Koufuku Kangei!~ (ハピネス ~幸福歓迎!~)
Koi no Jubaku (恋の呪縛)
Special Genera~tion (スッペシャル ジェネレ~ション)
Nanchuu Koi wo Yatteruu YOU KNOW? (なんちゅう恋をやってるぅ YOU KNOW?)
21ji Made no Cinderella (21時までのシンデレラ)
Gag 100 Kaibun Aishite Kudasai (ギャグ100回分愛してください)
Jiriri Kiteru (ジリリ キテル)
Waracchaou yo BOYFRIEND (笑っちゃおうよ BOYFRIEND)
Munasawagi Scarlet (胸騒ぎスカーレット)
VERY BEAUTY
Kokuhaku no Funsui Hiroba (告白の噴水広場)
Tsukiatteru no ni Kataomoi (付き合ってるのに片思い)
Dschinghis Khan (ジンギスカン)
Disc 2 – A-Side Collection

Yuke Yuke Monkey Dance (行け 行け モンキーダンス)
MADAYADE
Dakishimete Dakishimete (抱きしめて 抱きしめて)
Seishun Bus Guide (青春バスガイド)
Rival (ライバル)
Watashi no Mirai no Danna-sama (私の未来のだんな様)
Ryuusei Boy (流星ボーイ)
Otakebi Boy WAO! (雄叫びボーイ WAO!)
Tomodachi wa Tomodachi Nanda! (友達は友達なんだ!;)
Maji Bomber!! (本気ボンバー!!)
Shining Power (シャイニング パワー)
Heroine ni Narou ka! (ヒロインになろうか!)
Ai no Dangan (愛の弾丸)
Aa, Yo ga Akeru (あぁ,夜が明ける)
Be Genki <Naseba Naru!> (Be元気<成せば成るっ!>)
Disc 3 – A-Side Collection

cha cha SING
WANT!
Asian Celebration (アジアン セレブレイション)
Golden Chinatown (ゴールデンチャイナタウン)
Sayonara Usotsuki no Watashi (さよなら 嘘つきの私)
Motto Zutto Issho ni Itakatta (もっとずっと一緒に居たかった)
ROCK Erotic (ROCKエロティック)
Otona na no yo! (大人なのよ!)
1-oku 3-senman Sou Diet Oukoku (1億3千万総ダイエット王国)
Ai wa Itsumo Kimi no Naka ni (愛はいつも君の中に)
Fuutsu, Idol 10nen Yatterannai Desho!? (普通、アイドル10年やってらんないでしょ!?)
Romance wo Katatte (ロマンスを語って)
Towa no Uta (永久の歌)
Love together!
Anata Nashi de wa Ikite Yukenai (04-13-15 Kanjuku Completion Ver.) (あなたなしでは生きてゆけない)
Disc 4 – Coupling Collection

BERRY FIELDS
Natsu Wakame (夏わかめ)
Kacchoee! (かっちょええ!)
Yuujou Junjou oh Seishun (友情 純情 oh 青春)
Passion E-CHA E-CHA (パッションE-CHA E-CHA)
Koishiteru Toki wa Itsumo… (恋してる時はいつも···)
Yume de Do Up (夢でドゥーアップ)
Himitsu no U.ta.hi.me (秘密のウ·タ·ヒ·メ)
Nigiyaka na Fuyu (にぎやかな冬; Lively Winter) (Berryz Kobo, Yaguchi Mari)
Toshoshitsu Taiki (図書室待機)
Suhada Pichipichi (素肌ピチピチ)
Aitai Kedo… (会いたいけど···)
Gaki Taishou (ガキ大将)
Seishun Oodoori (青春大通り)
Warera! Berryz Kamen (我ら! Berryz仮面)
Darling I LOVE YOU (Berryz Kobo ver.) (ダーリン I LOVE YOU (Berryz工房 ver.))
Maji Good Chance Summer (マジ グッドチャンス サマー)
Disc 5 – Coupling Collection

Furare Pattern (フラれパターン)
Sono Subete no Ai ni (そのすべての愛に)
MOON POWER
Otakebi Boy WAO! (Spark Ver.) (雄叫びボーイ WAO! (スパークVer.))
Chotto Samishii na (ちょっとさみしいな)
Hero Arawaru! (ヒーロー現る!)
Omoide (思い出)
Otona ni wa Naritakunai Hayaku Otona ni Naritai (大人にはなりたくない 早く大人になりたい)
Mou, Kodomo ja nai Watashi na no ni… (もう、子供じゃない私なのに…)
Loving you Too much (Bird Thongchai cover)
Momochi! Yurushite Nyan♡Taisou (ももち! 許してにゃん♡体操) (Momochi (Tsugunaga Momoko feat. Berryz Kobo))
Yuuki wo Kudasai! (勇気をください!)
Sekai de Ichiban Taisetsu na Hito (世界で一番大切な人)
I like a picnic (Original : Bird Thongchai)
I'm so cool!
Koisuru Technique (恋するテクニック)
Disc 6 – Rare Tracks Collection

Amazuppai Haru ni Sakura Saku (甘酸っぱい春にサクラサク) (Berryz Kobo x °C-ute)
Tanjun Sugi na no Watashi… (単純すぎなの私・・・)
Chou HAPPY SONG (Single Ver.) (超HAPPY SONG) (Berryz Kobo x °C-ute)
Chou HAPPY SONG (超HAPPY SONG) (Berryz Kobo x °C-ute)
Dschinghis Khan Tartar Remix (ジンギスカン タルタルミックス)
Dschinghis Khan Piston Nishizawa Two Turntable Remix (ジンギスカン ピストン西沢 Two Turntable Remix)
Elegant Girl (エレガントガール) (Himuro Ibu (Sugaya Risako))
Heroine ni Narou ka! (Early Ver.) (ヒロインになろうか!)
Marui Taiyou (Unreleased Cover Ver.) (丸い太陽) (Original: Taiyou to Ciscomoon)
GET UP! Rapper (Unreleased Cover Ver.) (GET UP!ラッパー) (Original: SALT5)
Pittari Shitai X'mas! (Unreleased Cover Ver.) (ぴったりしたいX'mas!) (Original: Petitmoni)
Yatto Aeta ne (New Recording) (やっと会えたね)
Thank You Very Berry (サンクユーベリーベリー)
Warera Jeanne (我らジャンヌ)