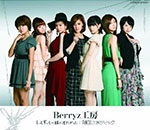 Berryz Kobo's 33rd single Motto Zutto Issho ni Itakatta / Rock Erotic (もっとずっと一緒に居たかった / Rockエロティック) will be released on October 2.
It is a double A-side single. It also contains a coupling track.
The limited editions include bonus DVD featuring various versions of the music videos and making-of footage. They also include a ticket for a handshake event.
Check out the music videos.
Tracklist
CD

Motto Zutto Issho ni Itakatta (もっとずっと一緒に居たかった)
Rock Erotic (Rockエロティック)
I'm so Cool!
Motto Zutto Issho ni Itakatta (もっとずっと一緒に居たかった) (Instrumental)
Rock Erotic (Rockエロティック) (Instrumental)
DVD (Type A)

Motto Zutto Issho ni Itakatta (もっとずっと一緒に居たかった) (Music Video)
Motto Zutto Issho ni Itakatta (もっとずっと一緒に居たかった) (Dance Shot Ver.)
DVD (Type B)

Rock Erotic (Rockエロティック) (Music Video)
Rock Erotic (Rockエロティック) (Dance Shot Ver.)
DVD (Type C)

Motto Zutto Issho ni Itakatta (もっとずっと一緒に居たかった) (Close-up Ver.)
Rock Erotic (Rockエロティック) (Close-up Ver.)
Making-of Footage (メイキング映像)
CD (Type D)

Motto Zutto Issho ni Itakatta (もっとずっと一緒に居たかった)
Rock Erotic (Rockエロティック)
Koi Suru Technic (恋するテクニック)
Motto Zutto Issho ni Itakatta (もっとずっと一緒に居たかった) (Instrumental)
Rock Erotic (Rockエロティック) (Instrumental)
Music Video (PV)