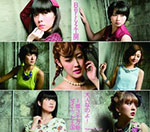 Berryz Kobo's 34th single Otona Nanoyo! / 1-Oku 3-Senman Sou Diet Oukoku (大人なのよ ! / 1億3千万総ダイエット王国) will be released on February 19.
This is a double A-side single. 5 versions are available. The track listing is the same for each one of them.
The MV has been released.
The regular editions come with the photo of a member of Berryz Kobo randomly selected.
The limited editions include bonus DVD featuring various versions of the music videos and making-of footage. They also include a ticket for a handshake event.
In addition, the idol group from Hello! Project will release its greatest hits album Berryz Kobo Special Best Vol.2 (Berryz工房 スッペシャル ベスト Vol.2) on February 26.
Tracklist
CD

Otona Nanoyo! (大人なのよ !)
1-Oku 3-Senman Sou Diet Oukoku (1億3千万総ダイエット王国)
Otona Nanoyo! (大人なのよ !) (Instrumental)
1-Oku 3-Senman Sou Diet Oukoku (1億3千万総ダイエット王国) (Instrumental)
DVD (Type A)

Otona Nanoyo! (大人なのよ !) (Music Video)
Otona Nanoyo! (大人なのよ !) (Making-of)
DVD (Type B)

1-Oku 3-Senman Sou Diet Oukoku (1億3千万総ダイエット王国) (Music Video)
1-Oku 3-Senman Sou Diet Oukoku (1億3千万総ダイエット王国) (Making-of)
DVD (Type C)

Otona Nanoyo! (大人なのよ !) (Close-up ver.)
1-Oku 3-Senman Sou Diet Oukoku (1億3千万総ダイエット王国) (Close-up ver.)
Otona Nanoyo! (大人なのよ !) (Dance-shot ver.)
1-Oku 3-Senman Sou Diet Oukoku (1億3千万総ダイエット王国) (Dance-shot ver.)
Music Video (PV)