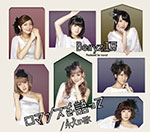 Berryz Kobo's 36th single Romance wo Katatte / Towa no Uta (ロマンスを語って / 永久の歌) will be released on November 12th.
This is the last single from Berryz Kobo before the hiatus of the idol group in the Spring of 2015. It is a double A-side.
The MV and the new profile pictures of the members have been unveiled.
It is produced by Tsunku. He wrote the lyrics and composed the music of both songs.
The regular editions come with the photo of a member of Berryz Kobo randomly selected.
The limited editions include bonus DVD featuring various versions of the music videos and making-of footage. They also include a ticket for a handshake event.
Furthermore, their concert tour Naruchika 2014 Aki Berryz Koubou (ナルチカ2014秋 Berryz工房) is being held from September 23 to November 6.
Tracklist
Type A / C

CD

Romance wo Katatte (ロマンスを語って)
Towa no Uta (永久の歌)
Romance wo Katatte (Instrumental)
Towa no Uta (Instrumental)

DVD (A)

Romance wo Katatte (Music Video)

DVD (C)

Romance wo Katatte (Dance Shot ver.)
Making-of (MV・ジャケット撮影メイキング&オフショット映像)
Type B / D

CD

Towa no Uta
Romance wo Katatte
Towa no Uta (Instrumental)
Romance wo Katatte (Instrumental)

DVD (B)

Towa no Uta (Music Video)

DVD (D)

Towa no Uta (Dance Shot ver.)
Making-of (MV・ジャケット撮影メイキング&オフショット映像)
Music Video (PV)