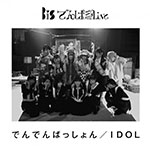 BiS and Dempagumi.inc will release a collaboration single titled Denden Passion / Idol (でんでんぱっしょん) on October 12.
As its name suggests, this single includes Dempagumi.inc's song performed by BiS, and vice versa.
In addition, BiS and Dempagumi.inc will hold collaboration live performances on October 12 at Shibuya O-East, and on October 27 at Borofesta 2013 (ボロフェスタ2013).
The CD will be exclusively on sale at these live events.
Tracklist
CD

Denden Passion (でんでんぱっしょん) / BiS
Idol / Dempagumi.inc