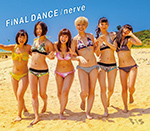 BiS will release their new single Final Dance / nerve on May 28.
As the idol group is going to disband in July, this is the last single from BiS.
The MV has been released.
The members of BiS show a new side of themselves as they are wearing bikinis on the beach on the covers and in the music video. The shooting was done in Okinawa.
Final Dance is a rock song. The lyrics talk about the feelings and the emotions of the members before the end of the idol group's activities.
The coupling track nerve is a cover of their 2010's song.
The single is produced by Matsukuma Kenta (Scrambles).
3 editions are available. The CD tracklisting is the same for each one of them.
As its name suggests, the Music Video edition comes with a bonus DVD featuring the MV and its making-of.
The Live edition includes footage from the concert BiS after all EXTRA held at Shibuya O-East in Tokyo.
BiS are going to disband after a last live performance at Yokohama Arena on July 8, 2014.
Moreover, The BiS Who Sold The World Tour is being held from April 13 to June 29 across Japan.
Tracklist
CD

FiNAL DANCE
nerve
FiNAL DANCE -Acappella-
nerve -Acappella-
FiNAL DANCE -Instrumental-
nerve -Instrumental-
DVD (Music Video ver.)

FiNAL DANCE (Music Video)
FiNAL DANCE (Making of)
 DVD (Live ver.)

primal.2
DiE
STUPiG
no regret
Magumato (マグマト)
GET YOU
MURA-MURA
MMGK
BiSimulation
ERROR
nasty face
Fly
Hi
Hide out cut
Primal (プライマル。)
– Encore –
I wish I was SpecIaL
Give me your love 全部
PPCC
nerve
IDOL
primal.
Music Video (PV)