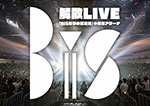 BiS Kaisan Live "BiS Nari no Budokan" (BiS解散Live「BiSなりの武道館」) will be released on DVD and Blu-ray on September 24th.
This event was the final concert of the BiS before the disbandment of the idol group. The girls performed 49 songs non-stop.
The digest and the video of the song Final Dance have been unveiled.
The DVD and the Blu-ray include a bonus disc featuring the live Road to Budokan Kokugikan "Who Killed Idol?" which was held in March 2013. Pour Lui, Nozomi Hirano, and former members Wakisaka Yurika, Terashima Yufu and Michibayashi Rio participated in this event.
Setlist
 Disc 1 : BiS Nari no Budokan

nerve
– OPENING –
FiNAL DANCE
Primal (プライマル。)
nasty face
MMGK
ERROR
Magumato (マグマト)
no regret
STUPiG
ODD FUTURE
Fly
Hi
DiE
MURA-MURA
BiSimulation
Hide out cut
Ano Koro (あの頃) (BiS kyoushuku version)
GET YOU
Demo Sayonara (デモサヨナラ)
IDOL is DEAD
ASH
BLEW
urge over kill of love
hitoribochi
I wish I was specIaL
CHELSEA
PPCC
Hokousha Tengoku no Zattou de Sakendemitakattanda (歩行者天国の雑踏で叫んでみたかったんだ)
survival dAnce ~no no cry more~
IDOL
Toufu (豆腐)
primal.
Usagi Planet (ウサギプラネット)
YAH YAH YAH
eat it
gugigi
animal
Split Brain Syndrome (スプリットブレインシンドローム)
Magnolia (マグノリア)
My Ixxx
Paprika (パプリカ)
Give me your love 全部
Southern Bolt (サウザンボルト)
ELL!!
Taiyou no Jumon (太陽のじゅもん)
ONE DAY
BiS
Reribi (レリビ)
nerve
– ENDROLL –
Disc 2 : Road to Budokan Kokugikan "Who Killed Idol?"

survival dAnce ~no no cry more~
– MC –
Give me your love 全部
nerve
My Ixxx
CHELSEA
IDOL
BiS
I wish I was SpecIaL
ASH
– MC –
Taiyou no Jumon (太陽のじゅもん)
BLEW
gugigi
Paprika (パプリカ)
– MC –
primal.
CRACK CRACK
nerve
YELL!!
BiSimulation
eat it
Toufu豆腐
– Encore –
Hokousha Tengoku no Zattou de Sakendemitakattanda (歩行者天国の雑踏で叫んでみたかったんだ)
– MC –
urge over kill of love
hitoribochi
PPCC
Hide out cut
Reribi (レリビ)
Video