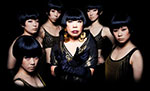 The fashion designer Koshino Junko (コシノジュンコ) joined BiS (Brand-new Idol Society) as a new member.
She passed secretly the audition held by the idol group.
Koshino Junko is going to make her first appearance on November 5 at Hot Denpo Festival 2013 in Tokyo. JK will also participate in BiS upcoming single Koi Suru Denpou Japan (恋する電報Japan).
Koshino Junko, 74 years old, is a famous fashion designer who worked for many brands.