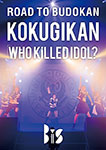 BiS Road to Budokan Kokugikan "Who Killed Idol?" will be released on DVD on September 4.
The DVD includes the 26 songs performed by BiS at the live, including the latest singles from the idol group.
The concert was held on March 16, 2013 at Ryogoku Kokugikan in Tokyo.
BiS participated in the live performance with their previous line-up featuring Wakisaka Yurika and Terashima Yufu who withdrew from the group since this event.
Setlist
Survival dAnce -no no cry more-
Give me your love
nerve
My Ixxx
Chelsea
Idol
BiS
I wish I was SpeciaL
Ash
Taiyou no Jumon (太陽のじゅもん)
Blew
gugigi
Paprika (パプリカ)
primal.
Crack Crack
nerve
Yell !!
BiSimulation
eat it
Toufu (豆腐)
– Encore –
Hokousha Tengoku no Zattou de Sakendemitaka (歩行者天国の雑踏で叫んでみたかったんだ)
urge over kill of love
hitoribochi
PPCC
Hide out cut
Reribi (レリビ)
Video (Preview)