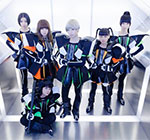 BiS will release their new single STUPiG on January 22.
STUPiG is described as a "digital hardcore" tune. It is produced by Ueda Takeshi (AA=).
The coupling track Odd Future is a rock song. It is produced by Matsukuma Kenta (Scrambles).
The music video for STUPiG has been revealed. The members of BiS wear strange costumes in a cyberpunk universe.
The MV for Odd Future has been released. There are 6 versions, whether one for each member of the idol group (Pour Lui, Hirano Nozomi, First Summer Uika, Tentenko, Kamiya Saki, Koshoji Megumi).
3 editions are available. The CD includes 2 songs and their acappella and instrumental versions.
The Anime edition comes with a bonus DVD with 8 episodes of the anime Backstage Idol Story starring BiS.
As its name suggests, the MV edition includes a DVD featuring the music video and making-of footage.
Tracklist
CD

STUPiG
Odd Future
STUPiG -Acappella-
Odd Future -Acappella-
STUPiG -Instrumental-
Odd Future -Instrumental-
DVD (Music Video Ver.)

STUPiG (Music Video)
STUPiG (Making-of)
DVD (Anime Ver.)

Shochuu Omimai Moushiagemasu (暑中お見舞い申し上げます)
Southpaw (サウスポー)
Akai Sweet Pea (赤いスイートピー)
Ai ga Tomaranai (愛が止まらない)
Hanbun Fushigi (はんぶん不思議)
Otome Pasta ni Kandou! (乙女 パスタに感動!)
Heavy Rotation (ヘビーローテーション)
Pero Pero Chucchu (ぺろぺろちゅっちゅ)
Music Video (PV)
Pour Lui ver. (プー・ルイ)

Hirano Nozomi ver. (ヒラノノゾミ ver.)

First Summer Uika ver. (ファーストサマーウイカ ver.)

Tentenko ver. (テンテンコ ver.)

Kamiya Saki ver. (カミヤサキ ver.)

Koshoji Megumi ver. (コショージメグミ ver.)