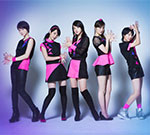 bump.y announced the graduation of all members. The idol group is going to disband in late June.
As the members of bump.y are now focusing on their career as actresses, the staff decided to stop their activities.
The date of bump.y's latest live performance and of their graduation ceremony hasn't been determined yet.
The idol unit was formed in 2009.
We wish them all the best in their future endeavors.