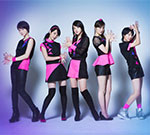 bump.y (バンピー) is a Japanese idol group formed in October 2009. It currently consists of 5 members.
All members of bump.y are also actresses. The girls played in several dramas, movies and stage plays.
The leader is Matsuyama Meari.
The name of the idol unit is an acronym for 5 words, each one representing a member : Brilliant (Takatsuki Sara), Ultra (Miyatake Matsuri), Miracle (Matsuyama Meari), Power (Sakuraba Nanami), and Youthful (Miyatake Mio).
Their eponymous web drama was broadcast on the internet between September and December 2009.
Kikuzato Hikari graduated in March 2010.
bump.y released their debut single Voice in August 2010.
The idol group held its 1st concert bump.y jumpy Live ~Super Unit Kansai Hatsy Jouriku!~ (〜スーパーユニット関西初上陸!〜) in the same month.
The members hosted several radio shows : bump.y no Oshiete! Juui-san (bump.yの教えて!獣医さん), Hop! Step! bump.y (ホップ! ステップ! bump.y), bump.y Radio, bump.y no Five Stars☆.
They also presented some TV variety shows such as bump.y Jump!!!!! in 2011 and Happy bump.y!!!! in 2012.
The graduation of all members of bump.y will be held in June 2014. The girls are going to focus on their career as actresses.
Profile
bump.y (バンピー)
Years active : 2009 – 2014
Label : Pony Canyon
Agency : Sweet Power
Members
Matsuyama Meari (松山メアリ)
Sakuraba Nanami (桜庭ななみ)
Miyatake Mio (宮武美桜)
Takatsuki Sara (高月彩良)
Miyatake Matsuri (宮武祭)
Former Members
Discography
Singles
25/08/2010 : Voice
24/11/2010 : Futari no Hoshi ~Hanareteitemo~ (2人の星~離れていても~)
02/03/2011 : Sotsugyou Made ni… (卒業までに・・・)
10/08/2011 : Kiss!
20/06/2012 : Gotta Getcha (ガラゲッチャ~Gotta Getcha~)
16/01/2013 : Cosmo no Hitomi (Cosmoの瞳)
24/07/2013 : Savage Heaven
Other Singles
Albums
25/11/2009 : Sweet Hits ☆
21/03/2012 : Happy! Lucky! bump.y!
18/12/2013 : pinpoint
Links
News