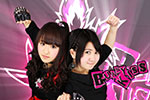 Bunny Kiss is a Japanese idol group formed in early 2014.
It currently consists of 2 members : Kana and Carua.
Bunny Kiss perform rock songs.
Biography / History
Kanna and Carua have the same birthday. Both idols were born on October 18, 1999.
Bunny Kiss are from Kansai. The girls hold regular live performances in this area. Their goal is to expand their activities all over the country.
The idol group made its debut with the single Bunny♥Kiss Demo CD-R in February 2014.
Their 1st album Super Sonic Girl is going to be released natiowide in October 2014.
Profile
Bunny Kiss (バニキス)
Years active : 2014 – present
Label : Creative Room
Agency : –
Members
Kanna – Blue
Carua♡ – Red
Discography
Singles
01/02/2014 : Bunny♥Kiss Demo CD-R
Albums
15/10/2014 : Super Sonic Girl
Links
News