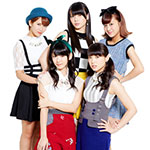 °C-ute Budokan Concert 2013 Queen of J-Pop ~Tadoritsuita Onna Senshi~ (℃-ute武道館コンサート2013『Queen of J-POP〜たどり着いた女戦士〜』) will be released on DVD and Blu-ray on December 18.
It includes the 1st concert of °C-ute at Nippon Budokan held on September 10, 2013. This date is also known as °C-ute no Hi (°C-uteの日).
Juice=Juice, Hello Pro Kenshuusei, and Moritaka Chisato participated in the live performance.
Setlist
Kiss Me Aishiteru (Kiss Me 愛してる)
Akogare My Star (憧れ My Star)
Tokai no Hitorigurashi ()
Bagel ni Ham & Cheese (ベーグルにハム&チーズ)
Watashi ga Honki wo Dasu Yoru (私が本気を出す夜)
Natsu Doki Lipstick (夏Dokiリップスティック) (Yajima Maimi, Nakajima Saki, Hagiwara Mai)
Kanashiki Heaven (悲しきヘブン)(Suzuki Airi, Okai Chisato)
Sekaichii Happy na Onna no Ko (世界一Happyな女の子)
Crazy Kanzen na Otona (Crazy 完全な大人)
Kanashiki Amefuri (悲しき雨降り)
Meguru Koi no Kisetsu (めぐる恋の季節) (Hello Pro Kenshuusei)
One's Life (Acoustic Ver.)
Bokura no Kagayaki (僕らの輝き) (Acoustic Ver.)
Tadoritsuita Onna Senshi (たどり着いた女戦士)
Kono Machi (この街) (°C-ute × Moritaka Chisato)
Ame (雨) (Moritaka Chisato)
Massara Blue Jeans (まっさらブルージーンズ)
Tokkaiko Junjou (都会っ子 純情)
Dance de Bakoon! (Danceでバコーン!)
Abiru Hodo no Ai wo Kudasai (浴びる程の愛をください)
Adam to Eve no Dilemma (アダムとイブのジレンマ)
Kore Ijou Kirawaretakunai no (これ以上 嫌われたくないの)
The Treasure Box (ザ☆トレジャーボックス )
Shines (°C-ute × Hello Pro Kenshuusei)
– Encore –
Wakkyanai (Z) (わっきゃない(Z))
Chou Wonderful (超Wonderful) (°C-ute × Juice=Juice × Hello Pro Kenshuusei)
Jump! (°C-ute × Juice=Juice × Hello Pro Kenshuusei)