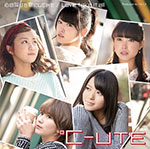 °C-ute's 24th single Kokoro no Sakebi wo Uta ni Shitemita / Love Take It All (心の叫びを歌にしてみた / Love Take It All) will be released on March 5.
This is a double A-side single. 5 versions are available. The track listing is the same for each one of them.
The MV has been released.
The regular editions come with the photo of a member of °C-ute randomly selected.
The limited editions include bonus DVD featuring various versions of the music videos and making-of footage. They also include a ticket for a handshake event.
Furthermore, Alo Hello! °C-ute 2014 Photobook (アロハロ! ℃-ute 2014 写真集) is on sale since January 25. Alo Hello! 3 °C-ute (アロハロ!3 ℃-ute) will be released on DVD and Blu-ray in March.
Tracklist
CD

Kokoro no Sakebi wo Uta ni Shitemita (心の叫びを歌にしてみた)
Love Take It All
Kokoro no Sakebi wo Uta ni Shitemita (心の叫びを歌にしてみた) (Instrumental)
Love Take It All (Instrumental)

DVD (Type A)

Kokoro no Sakebi wo Uta ni Shitemita (心の叫びを歌にしてみた) (Music Video)
Kokoro no Sakebi wo Uta ni Shitemita (心の叫びを歌にしてみた) (Making-of)

DVD (Type B)

Love Take It All (Music Video)
Love Take It All (Making-of)

DVD (Type C)

Kokoro no Sakebi wo Uta ni Shitemita (心の叫びを歌にしてみた) (Close-up ver.)
Love Take It All (Close-up ver.)
Kokoro no Sakebi wo Uta ni Shitemita (心の叫びを歌にしてみた) (Dance-shot ver.)
Love Take It All (Dance-shot ver.)
Music Video (PV)