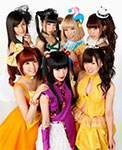 Camouflage is a Japanese idol group formed in October 2012. Their name is sometimes shortened as Camofla (カモフラ).
It currently consists of 7 members. Each one of them has been assigned a color.
The girls also work in various maid cafes (Moery, Mai Leaf, A.i Cafe, Moe2sta, Momochafe) in Nagoya.
The leader is Tatematsu Asu.
Takasaki Shoko is a guitarist and Kamiya Runa is a DJ.
Takasaki Shoko is also a popular gravure idol.
Yamashita Moe is a former member of SKE48 Team S.
History
Camouflage was created by Verus Entertainment in October 2012. There were 9 original members.
Takasaki Shoko and Tatematsu Asu host a radio show on Rainbow Town FM (レインボータウンFM) since July 2012.
Ito Erika withdrew in December 2012.
Camouflage released their debut single Koi no Jigen Bakudan (恋の時限爆弾) in March 2013.
Camouflage 1st Anniversary Live was held in October 2013 at Diamond Hall in Nagoya.
Takasaki Shoko ranked 3rd at the at the Next Gravure Queen Battle (Nextグラビアクイーンバトル) in January 2014.
The members of the idol group host the variety show Camofla DeNA ito! (カモフラDeNAいと!) airing on Showroom since February 2014.
Their 1st concert in Tokyo titled Shuto wo Nurauze! ~Tenkawakeme no Shinjuku Daikassen~ (首都を狙うぜ!〜天下分け目の原宿大合戦〜) took place in April 2014 at Astro Hall in Shinjuku.
Toshino Sakura and Kawai Miori graduated in April 2014. Both girls were former members of Moery Star (もえりぃすたぁ).
Sanjo Katsuki was added to Camouflage as a new member on the same day.
Profile
Camouflage
Years active : 2012 – present
Label : –
Agency : Verus Entertainment
Members
Kamiya Runa (神谷るな) – Orange
Sakura Mone (佐倉百音) – Yellow
Shiina Azusa (椎名あずさ) – Blue
Takasaki Shoko (高崎聖子) – Black
Tatematsu Asu (立松あす) – Green
Yamashita Moe (山下もえ) – White
Sanjo Katsuki (三条香月) – Red
Former Members
Ito Erika (伊藤えりか)
Toshino Sakura (吉野さくら) – Red
Kawai Miori (河合みおり) – Pink
Discography
Singles
04/03/2013 : Koi no Jigen Bakudan (恋の時限爆弾)
10/07/2013 : Kataomoi Wars (片思いWars)
23/10/2013 : Real Kininaru Girl (リアルキニナルガール)
23/03/2014 : Seishun no Hate / Lovin You (青春のはて / lovin you)
06/07/2014 : Ai Noh Aijou Odoryan! (アイノーアイジョー踊りゃんせ!)
20/08/2014 : Domestic Natsu Girl (ドメスティック夏ガール)
Albums
Links
News