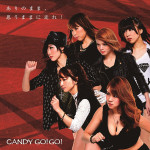 Candy Go! Go!'s new single Arinomama, Omou Mama ni Hashire! (ありのまま、思うままに走れ!) is going to be released on May 27.
This single marks the major debut of Candy Go! Go!.
The idol group from Shibuya performs rock songs.
Arinomama, Omou Mama ni Hashire! is the theme song for Tokyo 地下 Idol movie.
Candy Go! Go! member Nazuki Airu wrote the lyrics of the coupling track I'll Never Be Alone.
There are 8 editions of the CD, including a version for each sub-unit of the idol group :
Team A Nagisa Rin × Saeki Kana
Team B Nazuki Airu × Isono Miki
Team C Sekine Yumi × Takajo Shiori
Team D Enta Haruka × Miura Yuko
Team E Igarashi Natsumi × Hatori Saki × Shishid Momoko
The limited editions come with either a photo booklet, or a bonus DVD.
Tracklist
CD

Arinomama, Omou Mama ni Hashire! (ありのまま、思うままに走れ!)
I'll Never Be Alone
Fanfare (ファンファーレ)
Arinomama, Omou Mama ni Hashire! (Instrumental)
I'll Never Be Alone (Instrumental)
Fanfare (Instrumental)
Music Video (PV)