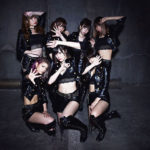 Candy Go! Go! is a Japanese idol group formed in July 2010.
It currently consists of 7 members.
The leader is Sekine Yumi.
The idol unit is based in Shibuya, Tokyo.
The girls perform rock songs.
Their catchphrase is "Let's pop'n roll with Candy Go! Go!".
Sekine Yumi and Enta Haruka participated in Allover project.
Biography / History
Candy Go! Go! gave their 1st live performance in December 2010.
Their radio show Oshaberi Candy! (おしゃべりCandy!) was broadcast on Shimokita FM (下北FM) from January 2011 to March 2012.
Candy Go! Go!'s debut single Soshite Mata Aeru to Iu yo (そしてまた逢えると云うよ) was released in February 2011.
Mochita Yuriko and Sakurai Megumi joined the idol unit in September 2011.
Mochita Yuriko graduated in January 2012.
Mamiya Teruko left the unit in July 2012.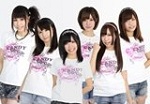 Their 1st gravure DVD We Are Candy Go! Go! was released in December 2012.
Sakura Tomoka held her graduation ceremony in March 2013.
Izumisawa Asane graduated from Candy Go! Go! in June 2013.
Candy Go! Go! collaborated with Nato☆Kan on the single Spectrum (スペクトル) released in August 2013.
Enta Haruka and Nazuku Airu were promoted as official members in August 2013.
Nazuki Airu was a finalist of the Japanese contest for Miss World 2014 (ミス・ワールド2014日本代表) contest.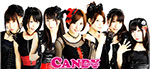 In February 2014, the idol group released simultaneously 2 singles, Cinderella Call and Soshite Mata Aeru to Iu yo (そしてまた逢えると云うよ), on the same date.
Isono Miki, Morisaki Nana and Takajo Shiori were respectively promoted to regular members in April, June and July 2014.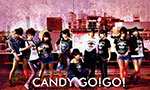 Candy Go! Go! First Tour 2014 Cinderella Story Live was held from July to September 2014.
Sakura Megumi announced her career interruption in September 2014.
Takahashi Natsumi graduated in the same month.
All the girls appeared in swimsuit in the DVD Candy Go! Go! ~One Day~ released in October 2014.
Miura Yuko was promoted to regular member at the beginning of 2015.
In January 2015, 3 members made their solo debut on the singles Kami-sama no Ijiwaru (神様のイジ悪) by Nagisa Rin, B side U by Nazuki Airu and Stay Free by Isono Miki.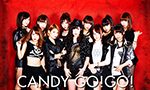 In January 2015, the girls were split into sub-units for the 1st season of a Grand Prix held between them :
Team Kan Rock (チーム貫☆Rock) : Saeki Kana × Nagisa Rin
Team Crusher (チームクラッシャー) : Nazuki Airu × Isono Miki
Team Ibarki (チーム茨城) : Sekine Yumi × Takajo Shiori
Team 2-nen G Gumi (チム2年G組) : Enta Haruka × Miura Yuko
Team Gekokujou (チーム下克上) : Igarashi Natsumi × Hatori Saki × Shishid Momoko
As a gravure idol, Isono Miki released her 2nd solo DVD Mirai Yosouzu (未来予想図) in April 2015.
Candy Go! Go!'s 10th single Arinomama, Omou Mama ni Hashire! (ありのまま、思うままに走れ!) was released in May 2015. It  is the theme song for the movie Tokyo 地下 Idol. Nazuki Airu wrote the lyrics of the coupling song I'll Never Be Alone.
Miura Yuko announced her graduation in July 2015 due to poor physical health. She had stopped activities in May.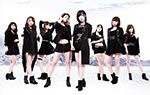 Candy Go! Go! signed with Teichiku Entertainment's label Imperial Records in October 2015.
Their 11th single overdrive / Taisetsu na Oshirase (overdrive/大切なお知らせ), on sale in January 2016, marked their major label debut. The CD ranked #8 on the Oricon weekly charts.
In January 2016, Shishido Momoko was promoted from kenkyuusei to regular member.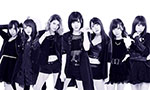 Enta Haruka left Candy Go! Go! in February 2016 due to poor physical health.
The idol group's single Onechan Summer / endroll (ワンチャン☆サマー/endroll) went on sale in August 2016. It is a double A-side.
Candy Go! Go! released their 1st major album Idorock in December 2016. It includes the song High Ball no Seiyaku (ハイボールの制約).
Their fans are called Candyst (キャンディスト).
Profile
Candy Go! Go! (キャンディー ゴーゴー)
Years active : 2010 – present
Label : Teichiku Entertainment / Imperial Records
Agency : One to One Agency
Members
Sekine Yumi (関根優美)
Saeki Kana (佐伯かな)
Nagisa Rin (なぎさりん)
Nazuki Airu (菜月アイル)
Isono Miki (磯野未来)
Takajo Shiori (高城しおり)
Shishido Momoko (宍戸桃子)
Former Members
Mochida Yuriko (持田ゆり子)
Mamiya Teruko (間宮照子)
Sakura Tomoka (佐倉朋香)
Izumisawa Asane (泉沢紋音)
Sakurai Megumi (櫻井めぐみ)
Takahashi Natsumi (高橋ナツミ)
Morisaki Nana (森咲なな)
Miura Yuko (三浦裕子)
Igarashi Natsumi (五十嵐夏実)
Enta Haruka (円田はるか)
Hatori Saki (羽鳥紗希)
Discography
Singles
13/02/2011 : Soshite Mata Aeru to Iu yo (そしてまた逢えると云うよ)
05/08/2011 : We Are!!!!!!
09/12/2011 : Koko Da yo! Smile (ここだよ!スマイル)
08/02/2012 : Forever ~Anata no Toko e~ (Forever~あなたのとこへ~)
06/04/2012 : Burning
10/10/2012 : Zettai Kasoku Shoujo C (絶対加速少女C)
10/05/2013 : Otona no Jijou (おとなの事情)
19/02/2014 : Cinderella Call
19/02/2014 : Soshite Mata Aeru to Iu yo (そしてまた逢えると云うよ)
30/05/2014 : Ima Sugu Kiss Me (今すぐkiss me)
22/10/2014 : Kami-sama no Ijiwaru (神様のイジ悪)
27/05/2015 : Arinomama, Omou Mama ni Hashire! (ありのまま、思うままに走れ!)
20/01/2016 : overdrive / Taisetsu na Oshirase (overdrive/大切なお知らせ)
17/08/2016 : Onechan Summer / endroll (ワンチャン☆サマー/endroll)
Solo Singles
05/01/2015 : Kami-sama no Ijiwaru (神様のイジ悪) / Nagisa Rin
05/01/2015 : B side U / Nazuki Airu
05/01/2015 : Stay Free / Isono Miki
Collaboration Singles
28/08/2013 : Spectrum (スペクトル) (Nato☆Kan & Candy Go! Go!)
Albums
29/06/2012 : Ame Damashii (飴魂)
25/09/2013 : Ame Kaiwai (飴界隈)
28/12/2016 : Idorock
Links
News