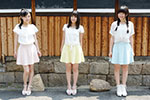 Caramel Ribbon (キャラメル☆リボン) is a Japanese idol group formed in January 2009 by Esse Academy actors school.
It currently consists of 3 members. Each one of them has been assigned a color.
The unit is based in Osaka in Kansai area.
In June 2013, Caramel Ribbon signed under T-Palette Records label.
It is a sister group of Na-Na.
Profile
Caramel☆Ribbon (キャラメル☆リボン)
Years active : 2009 – present
Label : T-Palette Records
Agency : Esse Academy
Members
Ueno Amane (上野天音)
Fukata Seina (深田聖奈)
Yoshinaka Aoi (吉仲葵)
Former Members
Discography
Singles
11/08/2010 : Nijiiro / Naniwa Kuishinbo Yokochou (虹色 / なにわ食いしんぼ横丁)
16/07/2012 : Koi no Music / Shining Day (恋のmusic / Shining Day)
24/04/2013 : Yakusoku no Basho / Ashita e to ~ Dance Ver. (約束の場所 / 明日へと〜Dance Ver.)
25/09/2013 : Start Ribbon (スタートリボン)
29/07/2014 : First Secret (ファーストシークレット)
Albums
Links
News