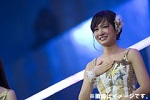 AKB48's concert DVD Maeda Atsuko Namida no Sotsugyou Sengen! in Saitama Super Arena ~Gyomu Renraku. Tanomuzo, Katayama Bucho!~ (前田敦子 涙の卒業宣言! in さいたまスーパーアリーナ 〜業務連絡。頼むぞ、片山部長!〜) will be released on September 5.
5 editions are available :
Special Box featuring 3-day concert
Single Day featuring one day of 3-day concert
Special Digest Edition featuring digest footage
The live was held at Saitama Super Arena on March 23-25.