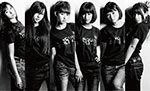 Idoling!!! had a collaboration with Vanquish stores titled Vanquish × Idoling!!!.
A special event was held on November 25 at Shibuya 109 Men's. A T-shirt with the names of all Idoling!!! members was designed for the occasion.
Endo Mai, Tonooka Erica, Yokoyama Rurika, Asahi Nao, Tachibana Yurika, and Kurata Ruka participated in this campaign.