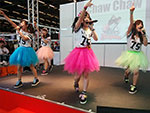 Chaw Chaw performed at Japan Expo 2015 in Paris Nord Villepinte, France, in early July.
Check out the video and some photos of their live.
Chaw Chaw is a Japanese idol group from Osaka.
The members are also students at the Broadcasting Art College (放送芸術学院専門学校) and at the Osaka Animation School (大阪アニメーションスクール専門学校).
Japan Expo is the biggest convention dedicated to Japanese culture in Europe. The festival took place on July 2-5, 2015.
Chaw Chaw participated in the event as part of Welcome to Japan project.
This was the first overseas live show of the idol group.
Video
Photos