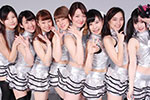 Chaw Chaw is a Japanese idol group formed in 2014.
It currently consists of 8 members.
The idol group is based in Osaka in Kansai area.
Biography / History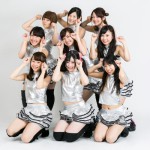 Some students at the Broadcasting Art College (放送芸術学院専門学校) and at the Osaka Animation School (大阪アニメーションスクール専門学校) decided to create Chaw Chaw in 2014 .
The girls do various acitivities as actresses, voice actresses, singers and dancers.
"Chaw Chaw" means "different" in Osaka dialect.
The particularity of the idol group is that members have to pass auditions alongside new applicants every year.
They take part in Welcome to Japan Project since May 2015. They promote local products from their region and Japanese popular culture worldwide.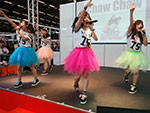 Chaw Chaw participated in Japan Expo 2015 in Paris Nord Villepinte, France, in July 2015. Check out our photos and videos of the event.
The idol group performed at the 2015 Comic Exhibition in Taiwan in August 2015.
The girls were starring in the musical Koushien Dake ga Koukou Yakyuu Dewa Nai (甲子園だけが高校野球ではない) in September 2015.
Profile
Chaw Chaw
Years active : 2014 – present
Label : –
Agency : –
Members
Nishioka Yuka (西岡優花)
Kinoshita Chiaki (木下千彰)
Sugimoto Akane (杉本茜)
Kurematsu Ami ( 呉松亜美)
Ando Rika (安東利香)
Nakanishi Akane (中西あかね)
Tanaka Shiho (田中志保)
Sakamoto Mizuho (阪本瑞葉)
Discography
Singles
Albums
Links
News