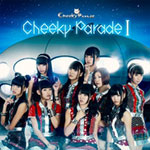 Cheeky Parade will release their 1st album Cheeky Parade I on November 27.
The album contains 13 songs including Cheeky Parade's latest singles and their new hit Check It Out (チェケラ).
The MV for this new song has been released.
3 editions are available.
All of them come with a photo and a ticket for a handshake event.
In addition, the CD edition includes a bonus track, whereas the limited edition comes with a 36-page photobook.
Tracklist
CD

Introduction ~dIscovery~
C.P.U !?
Check It Out (チェケラ)
Ckeeky Fighter (チィキィ ファイター)
Houkago Catharsis (放課後カタルシス)
Toshiue Koimoyowo (年上コイモヨヲ)
Uchuu Hikou Sensation (宇宙飛行センセーション)
Koi Teleportation (恋テレポーテーション)
Bunbun Nine9′
Challenger
Mugendai Shoujo A (無限大少女∀)
Happy Days
Cheeky Dreamer
Pan-Paka-Pan (Bonus Track CD Edition)
DVD (CD+DVD Edition)

Bunbun Nine9′ (Music Video)
C.P.U !? (Music Video)
C.P.U !? (Music Video Un-Edited Ver.)
Mugendai Shoujo A (無限大少女∀) (Music Video)
Check It Out (チェケラ) (Music Video)
CheekyPa Tsuushin Tokudaigou ~Uchuu Sekai e no Tabi~ (チキパ通信特大号~宇宙世界への旅~)
DVD (Limited CD+DVD Edition)

Bunbun Nine9′ (Music Video)
Bunbun Nine9′ (Music Video Another Ver.2)
C.P.U !? (Music Video)
C.P.U !? (Music Video !? Ver.)
Mugendai Shoujo A (無限大少女∀) (Music Video)
Mugendai Shoujo A (無限大少女∀) (Music Video Spiral Ver.)
Check It Out (チェケラ) (Music Video)
CheekyPa Tsuushin Tokudaigou ~Uchuu Sekai e no Tabi~ (チキパ通信特大号~宇宙世界への旅~)
Bunbun Nine9′ (Choreography Video)
Mugen Shoujo A (無限大少女∀) (Choreography Video)
Music Video (PV)