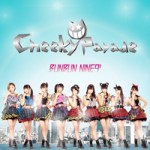 Cheeky Parade's new single Bunbun Nine9′ will be released on January 9.
This is the major debut single from Cheeky Parade.
The MV has been released.
Type A includes a DVD featuring the music video.
Type B contains a remix of their previous single Cheeky Dreamer as a bonus track.
A limited edition will be only on sale at Lawson HMV stores. It includes Cheeky Fighter performed during Cheeky Parade's live at Shinjuku Blaze on September 22.
Tracklist
Type A
DVD

Bunbun Nine9′ (Music Video)
Type B
CD

Bunbun Nine9′
Tactics
Cheeky Dreamer -ZK Remix-
Type C (Lawson HMV Limited Edition)
CD

Bunbun Nine9′
Tactics
Cheeky Fighter (チィキィファイター) (2012/9/22 at Shinjuku Blaze Live Recording)
Music Video (PV)