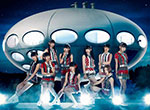 Cheeky Parade will hold a live performance in New York, USA, on October 11, 2014.
This concert in New York will take place in Broadway. It will be the final performance of Cheeky Parade Nine Lives Tour ~Road to NY~.
Further details will be announced later.
This surprise announcement was made on February 19 during an event held in Tokyo to celebrate the 2nd anniversary of the idol group.
Cheeky Parade Nine Lives Tour ~Road to NY~
05/04/2014 : Sendai Darwin
06/04/2014 : Sendai Darwin
03/05/2014 : Osaka Umeda Club Quattro
05/05/2014 : Tokyo Akiba Cultures Theater
11/05/2014 : Fukuoka Aru Aru YY Theater
31/05/2014 : Hokkaido Space Art
01/06/2014 : Hokkaido Space Art
22/06/2014 : Shizuoka Forse
19/07/2014 : Hiroshima Namiki Junction
11/10/2014 : New York Broadway, USA