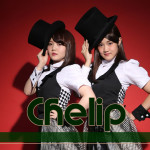 Chelip is a Japanese idol group formed in 2012.
It currently consists of 2 members.
They are a local idol unit based in Tottori Prefecture.
Biography / History
The name Chelip is a combination of the words "cherry" and "lips".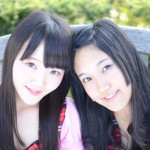 The idol group was created in August 2012.
Before joining, Itsugu Mayu and Fujii Mion were members of Ratte Friends (ラッテフレンズ) between 2010 and 2012.
The girls host the radio show Chelip no Pupupu (Chelipのぷぷぷ) on Daraz FM since October 2012.
Their 1st single Che Che Chelip ~Mahou no Kotoba~ was released in October 2012. It was produced by Ogawa Masumi (小川真澄), who is a former idol and member of Pumpkin (パンプキン) between 1989 and 1993.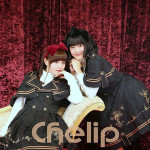 This song is featured in the music video game Beatmania IIDX by Bemani (Konami).
Chelip joined Sun Music Academy (サンミュージックアカデミー) in October 2013, but they are self-produced by ChelipWorks.
In January 2014, they obtained the agreement of Sun Music management to perform covers of Sunmyu's songs during their lives.
In March 2014, the girls were appointed supporters of the J3 League football team Gainare Tottori.
Fujii Mion entered Kobe Women's University in April 2015.
Their official Nico Nico (ニコニコ) channel Chelip no !? (Chelipのぱぱぱジャマ!?) opened in June 2015.
Their 3rd single Change the Power!!! was the first one to have a nationwide release in August 2015.
Profile
Chelip (チェリップ)
Years active : 2012 – present
Label : Runzan Music
Agency : ChelipWorks
Members
Itsugu Mayu (井次麻友)
Fujii Mion (藤井美音)
Discography
Singles
17/10/2012 : Che Che Chelip ~Mahou no Kotoba~ (Che Che Chelip~魔法のコトバ~)
16/07/2014 : Renai Shijou Shugi (恋愛至上主義)
15/08/2015 : Change the Power!!!
30/12/2015 : Again / Kibou Koukyoukyoku (希望交響曲)
Albums
Links
News