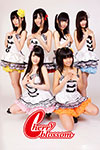 Cherry Blossom (チェリーブロッサム) is a Japanese idol group formed in 2011. It currently consists of 6 members. Each one of them has been assigned a color.
Hayase Amu, Watanabe Maari, and Tachibana Anna are also members of Alice Juban, whereas Sakura Rina, Kamiya Erina, and Sakura Yuki belong to Steamgirls (and Machikado Keiki Japan for the latter).
Cherry Blossom is part of Alice Project. It is a sub-unit of Alice Juban and Steamgirls.
They perform regularly at P.A.R.M.S. Theater in Akihabara in Tokyo.
Profile
Cherry Blossom (チェリーブロッサム)
Years active : 2011 – present
Label : –
Agency : Kleeblatt
Members
Current Members
Hayase Amu (早瀬愛夢) (Orange)
Watanabe Maari (渡辺まあり) (Yellow)
Tachibana Anna (立花あんな) (Red)
Sakura Rina (佐倉梨杏) (Light Blue)
Sakura Yuki (桜雪) (White)
Kamiya Erina (神谷えりな) (Pink)
Former Members
Hinata Sayuri (ひなたさゆり) (Blue)
Kinoshita Ai (木下あい)
Utena Marie (臺真理絵) (Pink)
Discography
Singles
Albums
Links
News