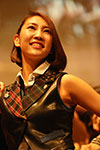 AKB48's Chikano Rina made her debut with JKT48 Team KIII in Indonesia.
Chikano Rina participated in Gingham Check Launching Concert on June 11 at Balai Kartini in Jakarta. As its name suggests, this event was held to celebrate the release of JKT48's 6th single Gingham Check (ギンガムチェック).
She has also opened her official Twitter account.
Chikariina performed 5 songs in Indonesian : River, Sakura no Hanabiratachi (桜の花びらたち), Hikoukigumo (ひこうき雲), Shoujotachi yo (少女たちよ), Shiroi Shirt (白いシャツ). She also thanked the fans for their support.
Chikano Rina is the 3rd Japanese member who joined JKT48 following Takajo Aki and Nakagawa Haruka.
As a former 5th generation member of AKB48, she will bring her experience to the idol group from Jakarta.