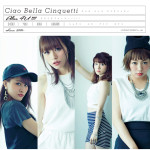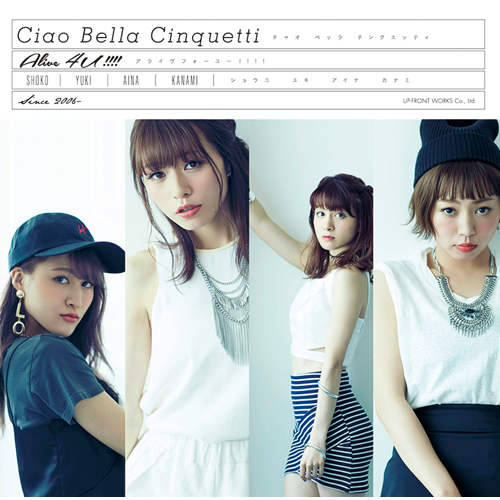 Ciao Bella Cinquetti (ex- THE Possible) will release its new album Alive 4 U!!!! on August 3.
This is the 4th original album of the idol group since its debut and its first under the name of Ciao Bella Cinquetti.
It is also the first album the group reduced to 4 members since Akiyama Yurika's graduation in August 2015.
It will be released under the Up-Front Works label.
The tracklists were unveiled.
The album will contain the last CBC's singles such as Omotesando / Futakotamagawa / Never Never Give Up and Doushiyou, Watashi / Ichigo Ichie.
The album will be available in two editions (Robiyuki and Twins) with different tracklists.
Tracklist
Robiyuki Edition

CD

True Hearts ~Fantastic 4~ (ver. A) (True Hearts~ファンタスチック4~(ver.A))
Gimme Vanilla (ギミバニラ)
Ichigo Ichie (一期一会)
Doushiyou, Watashi (どうしよう、わたし)
Omotesandou (表参道)
Futako-Tamagawa (Hashimoto Aina ver.) (二子玉川 (橋本ソロver.))
Never Never Give Up
BOOM×3 ~Jerashii Chau Zou! Jirashii Chau Zou!~ (BOOM!×3 ~ジェラしっちゃうぞ!焦らしっちゃうぞ!~)
Hyper! Happiness!? (Live Version) (ハイパー!ハピネス!?)
Pikan Sweet Emotion! (ピーカンSweet Emotion!)
Come On! ~Shuuyaku wa Watashi da (Omae mo na!)~ (キャモン!~主役は私だ(お前もな!)~)
Start (スタート)
True Hearts ~Fantastic 4~ (ver. B) (True Hearts~ファンタスチック4~(ver.B))
GOOD NIGHT SONG (bonus)
TWINS Edition

CD

Hyper! Happiness!? (Live Version) (ハイパー!ハピネス!? (ライブバージョン))
Start (スタート)
Never Never Give Up
BOOM×3 ~Jerashii Chau Zou! Jirashii Chau Zou!~ (BOOM!×3 ~ジェラしっちゃうぞ!焦らしっちゃうぞ!~)
Omotesandou (表参道)
Doushiyou, Watashi (どうしよう、わたし)
Futako-Tamagawa (Hashimoto Aina ver.) (二子玉川 (橋本ソロver.))
True Hearts ~Fantastic 4~ (ver. A) (True Hearts~ファンタスチック4~(ver.A))
Come On! ~Shuuyaku wa Watashi da (Omae mo na!)~ (キャモン!~主役は私だ(お前もな!)~)
Pikan Sweet Emotion! (ピーカンSweet Emotion!)
Ichigo Ichie (一期一会)
Gimme Vanilla (ギミバニラ)
True Hearts ~Fantastic 4~ (ver. B) (True Hearts~ファンタスチック4~(ver.B))
Dream More Dreams! (bonus)