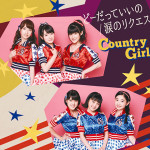 Country Girls will release their 4th single Dou Datte Ii no / Namida no Request (どーだっていいの / 涙のリクエスト) on September 28.
The MVs were unveiled.
This is the first single from the official graduation of Inaba Manaka on August 4. She had suspended her activities because of asthma attacks in last April, but she hadn't fully recovered, and she had to leave the idol group.
The lyrics and music for Dou Datte Ii no are by Nakajima Takui and arrangement is by Suzuki Shunsuke.
The song Namida no Request is a cover of the 1984 single by The Checkers.
The single is available in several versions: 2 regular editions and 4 limited ones.
The limited editions will include during first sales a serial number card which, when entered in a lottery, could win a ticket to have a chance to attend one of the single's launch events.
A special box set will be also released, including all versions of the single.
Tracklist
CD

Dou Datte Ii no (どーだっていいの)
Namida no Request (涙のリクエスト)
Dou Datte Ii no (Instrumental)
Namida no Request (Instrumental)
DVD

Limited Edition A

Dou Datte Ii no (Music Video)

Limited Edition B

Namida no Request (Music Video)

Limited Edition C

Dou Datte Ii no (Dance Shot Ver.)

Limited Edition D

Namida no Request (Dance Shot Ver.)
Music Video (PV)