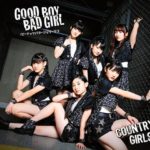 Country Girls will release their new single Good Boy Bad Girl / Peanut Butter Jelly Love (Good Boy Bad Girl / ピーナッツバタージェリーラブ) on February 8.
This is 5th major single of Country Girls.
Check out the MVs.
The song Good Boy Bad Girl was written by Kodama Ameko.
The song Peanut Butter Jelly Love was written by Eric Fukusaki and Miura Yoshiko.
The single is available in several versions: 2 regular and 4 limited editions.
The limited editions will include during first sales a serial number card which, when entered in a lottery, could win a ticket to have a chance to attend one of the single's launch events.
A special box set will be also released, including all versions of the single.
Furthermore, Tsugunaga Momoko will leave the idol group and Hello! Project on next June.
Tracklist
CD

Good Boy Bad Girl
Peanut Butter Jelly Love (ピーナッツバタージェリーラブ)
Good Boy Bad Girl (Instrumental)
Peanut Butter Jelly Love (Instrumental)
DVD

Limited Edition A

Good Boy Bad Girl (Music Video)

Limited Edition B

Peanut Butter Jelly Love (Music Video)

Limited Edition C

Good Boy Bad Girl (Dance Shot Ver.)

Limited Edition D

Peanut Butter Jelly Love (Dance Shot Ver.)
Music Video (PV)