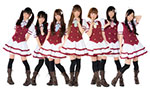 Danceroid (ダンスロイド) is a Japanese idol group formed in October 2009.
It currently consists of 7 members.
The leader is Itokutora (Ikura).
Biography / History
As the name of the idol unit suggests, they sing and dance to Vocaloid songs.
Danceroid began posting videos on Nico Nico Douga and YouTube in 2009. They got more than 50 millions views.
They held their 1st live performance in December 2009 at Shinjuku Astro Hall in Tokyo.
They mainly released DVD of their dance videos.
The girls have also various other activities as models or as guests on TV variety shows.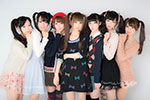 The 1st generation members were Itokutora, Minka Lee and Aikawa Kozue.
Danceroid disbanded in July 2014.
Ikura, Yuzuki, Maam, Manako and Yakko formed a new idol group named Q'ulle.
Profile
Danceroid (ダンスロイド)
Years active : 2009 – 2014
Label : –
Agency : Beautiful Group
Members
Itokutora (Ikura) (いとくとら(いくら))
Maam (まぁむ)
Yuzuki (柚姫)
Satsuki (さつき)
Manako (まなこ)
Motomiya Marie (本宮麻里絵)
Yakko (やっこ)
Former Members
Minka Lee (ミンカ・リー)
Coco (ここ)
Aikawa Kozue (愛川こずえ)
Discography
Singles
Albums
16/04/2011 : Danceroid Official Soundtrack
Links
News