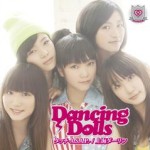 Dancing Dolls' new single Touch -A.S.A.P.- / Shanghai Darling (タッチ -A.S.A.P.- / 上海ダーリン) will be released on September 12.
This is the major debut single of Dancing Dolls under the label Sony Music Entertainment. It is a double A-side.
It is the theme song for the anime Touch (タッチ) broadcast on Fuji TV.
The lyrics were written by the members of Dancing Dolls and Kan Chinfa. The music was composed by 3rd Productions and Serizawa Hiroaki.
The limited edition comes with a DVD featuring the music videos and bonus footage.
Tracklist
CD

Touch -A.S.A.P.- (タッチ -A.S.A.P.-)
Shanghai Darling (上海ダーリン)
Melomelo Bakkyun (メロメロバッキュン)
Touch -A.S.A.P.- (タッチ -A.S.A.P.-) (Instrumental)

DVD

Touch -A.S.A.P.- (タッチ -A.S.A.P.-) (Music Video)
Shanghai Darling (上海ダーリン) (Music Video)
Osaka "Shiroten" kara Yattekita Dancing Dolls Desu!! (大阪"城天"からやってきたDancing Dollsです!!(ドキュメント映像))