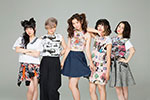 Dancing Dolls is a Japanese idol group formed in 2011. Their name is sometimes shortened as DanDoll (ダンドル).
It currently consists of 5 members.
The leader is Misaki.
The main vocalist is Mii.
Biography / History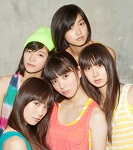 The 5 original members were Hono, Mii, Misaki, Asuka and Kyoka. They are childhood friends from Osaka.
Asuka and Kyoka are twin sisters.
The girls were discovered on the internet after having posted some videos of their street live performance in Osaka Castle Park on Nico Nico Douga (ニコニコ動画) and YouTube. They quickly became popular and got over 10 million views.
Misaki was the choreographer. The members worked on writing the lyrics.
The idol unit signed under major label Sony Music Entertainment in 2012.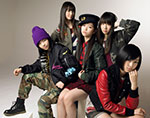 Dancing Dolls released their 1st single Touch -A.S.A.P.- / Shanghai Darling (タッチ -A.S.A.P.- / 上海ダーリン) in September 2012. This track was also the theme song for the anime Touch (タッチ).
Misaki, Asuka and Kyoka reached the 1st and the 2nd position after a vote during the show Sakigake! Idol Sousenkyo (魁!アイドル総選挙) broadcast on Fuji TV in December 2012. They were competing against the members of other idol groups.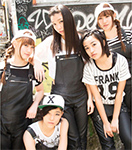 Dancing Dolls participated in the festival Kawaii Pop Fes by @Jam in Taiwan in January 2014 along with Up Up Girls (Kari), Super☆Girls, Dempagumi.inc, Tokyo Girls' Style, and Dorothy Little Happy. This event was their first overseas live performance.
Their 5th single Monochrome is the opening theme song for the anime Soul Eater Not! (ソウルイーターノット!). The CD was released in May 2014.
Asuka and Kyoka left the idol group in May 2014.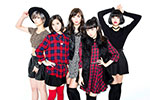 Miu and Kanon joined Dancing Dolls as new members in February 2015.
Both girls made a cover of the song Melo Melo Bakkyun (メロメロバッキュン) on the single My Way / Love Me, Love Me released in March 2015.
Their single Michi no Sekai e / Odoru Kokoro (ミチノセカイヘ / オドルココロ), on sale in August 2015, features samples from nobodyknows+'s song Kokoro Odoru (ココロオドル).
Profile
Dancing Dolls (ダンシングドールズ)
Years active : 2011 – present
Label : Sony Music Entertainment
Agency : –
Members
Hono (ほの) – Kadomoto Honoka (門元穂果)
Mii (みい) – Nakajima Misaki (中島弥咲)
Misaki (みさき) – Sakurada Misaki (桜田美咲)
Miu (みう)
Kanon (かのん)
Former Members
Asuka (あすか) – Nagayama Asuka (永山飛鳥)
Kyoka (きょうか) – Nagayama Kyoka (永山杏佳)
Discography
Singles
12/09/2012 : Touch -A.S.A.P.- / Shanghai Darling (タッチ -A.S.A.P.- / 上海ダーリン)
30/01/2013 : Wangan Wonder Darling / Raspberry Love (湾岸ワンダーダーリン / ラズベリーラブ)
24/07/2013 : DD Jump
13/11/2013 : Ring Dong
21/05/2014 : Monochrome
25/03/2015 : My Way / Love Me, Love Me
26/08/2015 : Michi no Sekai e / Odoru Kokoro (ミチノセカイヘ / オドルココロ)
Albums
Links
News