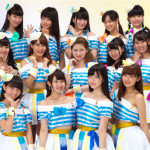 dela is a Japanese idol group formed in 2012.
It currently consists of 10 members.
dela is an acronym for Delightful Enchanting Lovely Angels.
Biography / History
The idol group is based in Nagoya.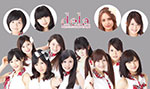 600 applicants participated in the audition in March 2012. 12 girls were selected.
Inuzuka Shino and Yumi Sayaka are former Young Champion Gakuen (ヤングチャンピオン学園) members.
Morimoto Tiemi is from Brazil.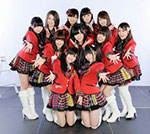 dela made their debut in April 2012.
Inuzuka Shino and Ayase Reina appeared in the drama Nagoya Yuki Saishuu Ressha (名古屋行き最終列車) respectively in 2012 and 2014.
Sawai Rina, Hayami Sae and Kiara joined the idol group as reserve members in March 2013. They were promoted later.
The girls went to Hawaii in 2013.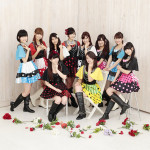 Sakuragi Ayane,Nakajima Sara, Momona Mai, Hitomi Satomi and Kondo Makoto joined dela as 2nd generation members in March 2014. There were more than 200 applicants to the audition. They formed piyo dela (ぴよdela) unit.
Ayase Reina and Hayami Sae played in the drama Sotsugyou (卒業) in 2014.
Hayami Sae acted in the 2nd season of  Gramspear The Legend of Golden Shachihoko (黄金鯱伝説グランスピアー) in 2014.
In the beginning of 2015, Morimoto Tiemi and Matsushita Konatsu suspended their activities with the idol group in order to focus on studies.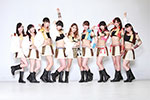 Captain Inuzuka Shino announced her graduation from dela in April 2015.
As a result, Sawai Rina became the new captain in August 2015.
In September 2015, Sawai Rina, Kataoka Kazusa and Hayami Sae participated in a campaign for road safety in Nagoya prefecture. They served as police girl officers in the commericials.
dela held a live and a hand-shaking event in Hawaii in March 2016. Sawai Rina, Akinami Ai, Ayase Reina, Hayam Sae and Ikenaga Yuri participated in the trip.
The album DELAX 〜dela best〜 is going to be released in April 2016.
Their catchphrase is "From Nagoya to Asia and the World" (名古屋からアジア・世界へ).
Profile
dela (Delightful Enchanting Lovely Angels) (デラ)
Years active : 2012 – present
Label : Muzic Records
Agency : Nagoya Beautiful Girl Factory
Members
Sawai Rina (沢井里奈)
Akinami Ai (秋波愛)
Ayase Reina (綾瀬麗奈)
Kano Aimi (架乃愛美)
Kataoka Kazusa (片岡かずさ)
Hayami Sae (早見紗英)
Kiara (稀亜羅)
Ikenaga Yuri (池永百合)
Haruno Ayae (春野彩恵)
Meimei (美美)
ぴよdela
Sakuragi Ayane (桜木彩音)
Momona Mai (百那まい)
Kondo Makoto (近藤真琴)
Nakajima Sara (中島咲良)
Kuwana Arisa (桑名ありさ)
Former Members
Kawai Rika (河合リカ)
Morimoto Tiemi (森本チエミ)
Matsushita Konatsu (松下小夏)
Inuzuka Shino (犬塚志乃)
Hitomi Satomi (瞳さとみ)
Yumi Sayaka (弓彩也香)
Discography
Singles
05/03/2014 : Orange Blossom
06/08/2014 : Daite Fantasia (抱いてファンタジア)
10/12/2014 : Love,Ding Dong
22/04/2015 : Kotoba Nante Iranai (言葉なんていらない)
26/08/2015 : Kimi Yuki Express (君行きExpress)
Albums
06/11/2013 : Nanairo no Uta (ナナイロのうた)
05/04/2016 : DELAX 〜dela best〜
Links
News