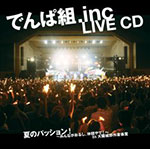 Dempagumi.inc's live CD Ai no Passion! ~Minna ga Arushi Chuugen ya de in Osaka Castle Hall~ (「夏のパッション! ~みんながおるし仲間やで in 大阪城野外音楽堂) was released on October 13.
However this mini-album is only on sale at the live performances of Dempagumi.inc.
The CD contains 6 tracks, including their singles Kira Kira Tune (キラキラチューン), Demparade Japan (でんぱれーどJapan), Sabotage, and Future Diver.
The songs were recorded at the concert of the idol group held in August in Osaka.
Moreover, Dempagumi.inc's latest single W.W.D II is on sale since October 2.

Tracklist
Opening SE
Kira Kira Tune (キラキラチューン)
Demparade Japan (でんぱれーどJapan)
Sabotage
Orange Rium
Future Diver